His country has been ranked the fifth most competitive economy in 2017 by the Swiss International Institute for Management Development. It is also the third most innovative, according to the Global Innovation Index. With a GDP of $48,860, it is one of the world's wealthiest nations.
He rides bicycle to work.
Mark Rutte, the 50-year-old Prime Minister of the Netherlands, is back in the news for, paradoxically, doing what the leaders of the world's poorest nations will consider an anathema — riding a bicycle to official functions.
Photographs have emerged of him arriving at the Dutch Royal House for a meeting with the King to announce the formation of a new government.
Bicycles are a common phenomenon in his country, largely because of its eco-friendly nature.
Riding it to work is a measure of the simplicity, and down-to-earth nature of the office holder.
In June this year, Rutte gave a gift of bicycle to his vising Indian counterpart Narendra Modi.
In many parts of the world, especially poor African countries, Presidents and Governors are associated with long convoys of exotic cars, dealing deathly blows on their national coffers, and on the environment.
The viral picture of Rutte visiting the King shows him locking his prized bicycle in front of the palace.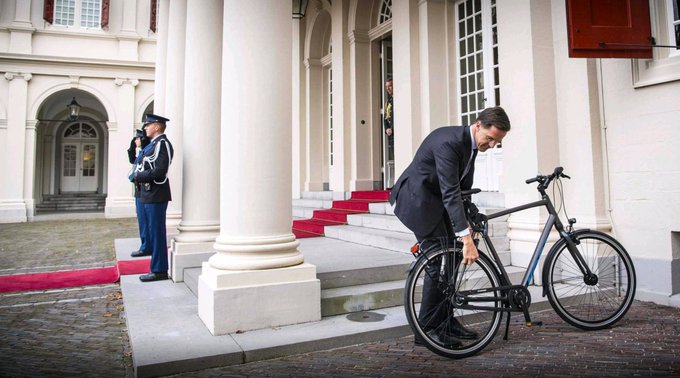 The then President of the world's wealthiest nation, George W. Bush of the United States of America,  was often photographed on a mountain bike. Ditto for his successor Barrack Obama who often rides with his daughters.
Former London Mayo Boris Johnson is also popular for riding bicycles to work